March 2, 2022
Summer of a Lifetime
by Page Turner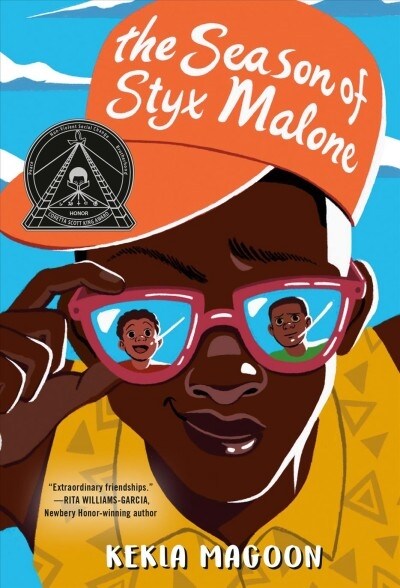 The Season of Styx Malone by Kekla Magoon
Summary
Caleb Franklin refuses to be ordinary. So when he and his brother Bobby Gene meet Styx Malone, a cool neighbor who promises to help them get out of their little town, he's ready to do whatever he asks to reach his dreams.
Review
The Season of Styx Malone had me from the first sentence – "Styx Malone didn't believe in miracles, but he was one." Kekla Magoon really is a master of words. Reading this book was simply fun for its writing style alone. Caleb's emotions are clear and vivid throughout the book, and every description draws the reader farther into the tale. Each character is believable and funny in their own way, which only makes them more lovable. Eager Caleb, reasonable Bobby Gene, and charming Styx certainly made for an entertaining dynamic.
The plot of this book is not dissimilar to other children's books, but having Black male protagonists certainly makes it revolutionary. I see very few books in this genre with Black leads, which is a shame. So many children's books with Black protagonists focus on racism rather than Black joy. Though racism plays a part, The Season of Styx Malone allows its protagonists to just have an adventure that is fun and humorous. It's a shame that this book is so unique in that regard. Between the masterful writing and refreshing role for Black characters, I desperately hope to see more books of this kind in the future.
Yours in love and literature,
Page
Content warning(s): foster care system, references to racism
Thanks so much for reading! Check out my Instagram (@page.turner.omnibus) to see what I'll be reviewing next!