March 13, 2021
Post-Fame and Misfortune
by Page Turner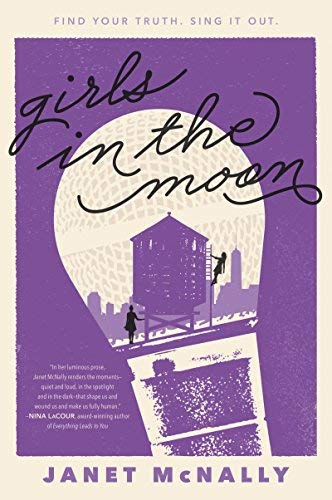 Girls in the Moon by Janet McNally
Summary
Everyone in Phoebe's family is or has been famous – her mother, former singer-songwriter for the band Shelter, her absent rock star father, and her sister, who's following closer in their mother's footsteps than she'd like to admit. When Phoebe visits her sister and her band in New York, she may be forced to face more of her family's past and present than she's ready for.
Review
I'm absolutely in love with the way this book is written. The style very much fits the themes of the book itself. At times it becomes lyrical, bordering on purple prose, showing the beauty and glamour even in everyday things. Others, it's harshly straightforward, mirroring the difficulties that come with a life of fame. Since the book is written from Phoebe's perspective, it becomes a subtle way of showcasing her talent with words, even if she doesn't really see it. In a way, it mirrors her uncertainty about herself and her family's world that she feels so left out of.
I was also impressed with how much Phoebe's mother was involved in the story, even if she wasn't actually present for most of it. She and her past are incredibly influential in everything Phoebe and her sister do. Phoebe's sister rebels by doing exactly what she did, down to taking time away from school to promote the band she started with her boyfriend. Phoebe wants answers her mother refuses to provide, so she looks everywhere and anywhere to find them. Both of them find their mother in their surroundings and each other. Every plot point is connected by the sisters' desire to understand their parents and one another. Overall, Girls in the Moon wonderfully shows the complexities of family, fame, and a past that can't be hidden. After all, what is life without complexity?
Yours in love and literature, Page.
Content warning(s): swearing, brief fatphobia, unplanned pregnancy, smoking, underage drinking, drug abuse mention
Thanks for reading! Check out my Instagram (@page.turner.omnibus) to see what I'll be reviewing next!