June 19, 2021
One Day We'll Go to the Moon
by Page Turner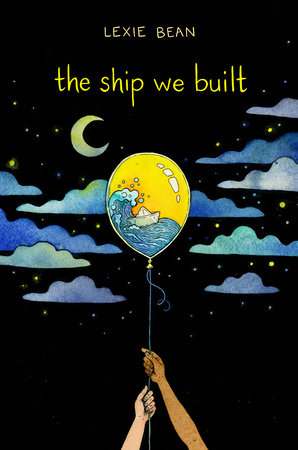 the ship we built by Lexie Bean
Summary
Rowan can't keep a diary – after all, his parents or the kids at school might find and read it. He writes letters instead, attaching them to balloons and sending them floating into the sky. Each letter details the secrets he's too afraid to tell and the life he leads, where too many people want him to stop being himself.
Review
This book is simultaneously heartbreaking and hopeful. At many points, I wondered if I would be able to finish it. the ship we built deals with a lot of heavy topics such as parental abuse, transphobia, and the havoc a parent going to prison can wreak on a family. Rowan's fears and pain are so vivid that it was difficult to get through the book at times. He's desperate for a friend, but when his old friends gather under the trampoline and point at him until he leaves, he feels lonely and abandoned. Throughout this book, Rowan constantly battles with what he knows about himself and the heartbreaking reality that it may cost him the people that should love him the most.
Yet, despite all of the sadness and pain in Rowan's life, there is hope, too. He finds a friend and ally in Sofie, who doesn't make him feel like he's bad for not being the girl his parents and peers want him to be. Despite everyone around him pressuring him to change, he ultimately remains sure that he's a boy. Rowan may feel out of place most of the time, but there are people and places he learns to find a home in. While not necessarily happy, the book ends on a very hopeful note. I would suggest that readers try not to be put off by the heavy aspects of this book and make it all the way through. It's certainly worth it.
Yours in love and literature,
Page
Content warning(s): homophobia, transphobia, bullying, alcohol abuse, incest, sexual assault of a child, parental abuse, suicidal thoughts, implied conversion therapy, religious homophobia/transphobia
Thanks for reading! Check out my Instagram (@page.turner.omnibus) to see what I'll be reviewing next!