April 24, 2021
A New Superhero
by Page Turner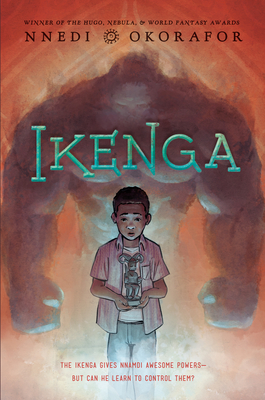 Ikenga by Nnedi Okorafor
Summary
Nnamdi has always loved superheroes. He never felt more powerless than he did after his police chief father's death, a murder which he pins on the notorious Chief of Chiefs. When the Ikenga grants him superpowers, he's thrilled to be able to stop the crime that has erupted in the city and avenge his father – but being a superhero may be harder than Nnamdi expected.
Review
Ikenga is a fascinating take on an old trope – a kid suffers death, gets superpowers, and has to save the city. Except this time, the setting isn't New York or a fantasy city, but modern Nigeria. Rarely do I see books like this set anywhere but the Western world. Sometimes it's nice to have to learn about unfamiliar places instead of revisiting the same setting over and over again. Nnamdi's powers also aren't inherent, nor do they really come from him, but stem entirely from the Ikenga. It's interesting to see a power that could be taken away at any time, willingly or unwillingly. The responsibility Nnamdi bears is quite different than some other superheroes.
To add to the subversion, his hero persona isn't always positive. As good as he tries to be, Nnamdi's heroic actions are twisted by witnesses and the press. To the people of the city, he seems violent and dangerous. That was another aspect I enjoyed – the way the book showed how Nnamdi's powers might corrupt him. It's not always played off as him trying to do the right thing. Nnamdi is a child given incredible power and responsibility that could go wrong at any moment. He doesn't always handle it well. This book is a lesson in the danger that any power holds and that only the person in power can decide how they'll wield it.
Yours in love and literature, Page.
Content warning(s): violence, kidnapping, murder
Thanks for reading! Check out my Instagram (@page.turner.omnibus) to see what I'll be reviewing next!